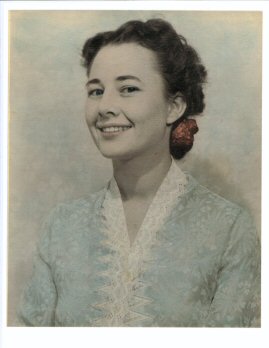 Darlene Deibler Rose as a young missionary
January , 2007


Dear Beloved Friends of Jerry and Darlene
On Tuesday, February 24, 2004, Darlene Rose laid her head back, smiled that special little smile and closed her eyes.Jerry, seeing this, moved swiftly to her side to help. He realized in a moment that her body was beyond human intervention.God had called, and His calling is irrevocable.And five months later, God called Jerry home,both now at rest but their work still to impact the world.
v        v        v
When Darlene had returned home after WWII, she still wanted desperately to return to the islands. She had met Jerry and they had married in 1948 and in 1949 she and Jerry returned together. Jerry was already under appointment to this primitive mission field of Papua New Guinea Side by side they worked together raising their two young sons, Bruce and Brian, teaching, preaching, building landing strips, delivering babies, standing against headhunters and leading them to Christ.Then in 1978, they met another challenge when they moved to the Outback of Australia.
In 2003 and in their 80´s, Darlene & Jerry, having returned to the States some years earlier, settled into a retirement center in TennesseeThey slowed down but never retired;always ready in season and out of season to inspire and encourage those they came in contact with to know the Lord. Long time friends, Dr. Bill Henry, Pastor of Faith Bible Church and his wife, Jan, helped to care for them during this time, volunteering to take up the role of correspondence. Months before her death, Darlene asked them to faithfully promise to keep her story alive to share it with the world.This they have done, believing this was God´s call.
At the beginning of the War, the Lord had given Darlene this verse; Deuteronomy 33:12, "The beloved of the Lord shall dwell in safety by Him; and the Lord shall cover (overshadow) him all the day long and he shall dwell between His shoulders". This promise of God was not only the cornerstone of her faith during her internment, but demonstrated that God is able to do abundantly exceedingly above all that she could ask or think as this promise remained the firm foundation of her faith all her days on this earth.
The purpose of this website is to glorify our Lord and Savior, Jesus Christ through the story of His work in Darlene´s life. We trust that this testimony will minister to you and lead you into a deeper, more intimate relationship with Him, who loved us and gave Himself for us.
For Jerry and Darlene´s family, we are
Your servants and His,
Bill and Jan
Dr. and Mrs. William K. Henry
Photo courtesy of Dr.and Mrs. William K. Henry, Rose family archives.